Governor Herbert Honors Fallen Police Officer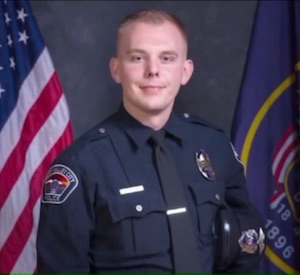 When West Valley City Police Officer Cody Brotherson was tragically struck down on November 6 by a stolen car while he was laying out spike strips to stop it, the community mourned and held tearful tributes for him, according to Fox 13 news, Salt Lake City.
On the same day, Gov. Gary R. Hebert issued a statement about the loss of Officer Brotherson which expressed his deep appreciation for his service and sacrifice, as issued on the Utah.gov website:
"It is with heavy hearts that Jeanette and I join all Utahns in mourning the passing of Officer Cody Brotherson, who gave the ultimate sacrifice this morning. We are heartbroken to lose such a young and dedicated officer who by all accounts had a bright future ahead of him."
"Once again we face a tragic reminder of the selflessness and unwavering courage that is required of our peace officers and their families each day. We cannot thank enough those who put their lives on the line to serve, defend and protect our communities. Officer Brotherson's sacrifice will not be forgotten. We offer our prayers and sincere condolences to his family, fiancée, friends, and the entire law enforcement community at this difficult time."
In honor of Brotherson, the Governor also ordered the lowering of the flag of the United States of America, as well as the State of Utah flag. The flags were flown at half-staff from sunrise to sunset at all state facilities on November 14, 2016, the day of his funeral.
Brotherson was only 25 years old when he died in the line of duty, and his death was felt across the country because of the senseless loss of yet another dedicated officer protecting his community. "On that morning, Cody was trying to protect a community. He was fighting crime. He was trying to arrest offenders. And when that moment came, he stood strong, he didn't waver, he didn't run away," said West Valley City Police Chief Lee Russo. "It doesn't matter what patch we have on our shoulder, we're all the same, brothers and sisters through and through," said NYPD Officer Thomas Podd.
The "Last Call" has been a long held tradition at the funerals of law enforcement officers. It symbolizes the last time dispatch calls the officer. A dispatcher did so in honor of Officer Brotherson's brave service: "Officer 444, we now show you 10-42 for the last time. It's been a pleasure and a blessing."